Head, Heart and Hands of Indian River Club (HHH-IRC) has made a grant of $7,500 to Miss B's Learning Bees (MBLB) to support children in areas of extreme poverty in Indian River County. MBLB's has pioneered a multifaceted approach for families that reside in communities of poverty so that children have the academic support and behavioral services to reach and maintain proficiency in school. These services are offered at the organization's neighborhood hubs located in areas of high poverty in Indian River County.
Miss B's Community Outreach Academic Enrichment program – nicknamed Project COAEP- offers academic enrichment with certified trained Florida educators afterschool to help K-12 students reach and maintain proficiency in writing, reading, math and science. Second, a behavioral services model assists students in developing socially acceptable behaviors that are critical to them succeeding in school and in life. Third, a food partnership allows MBLB to offer participants a healthy snack and nutritious meal each day. This is extremely important for families as many are food insecure. Fourth, transportation services are incorporated for families to and from academic enrichment since access to transportation is a barrier for many low-income families. Fifth, access to hardware and software to bridge the digital divide is critical for success in today's classroom. Lastly, MBLB's Parent Engagement program provides support for parents. All services are offered free of charge to learners and their families.
The 2019 Community Needs Assessment done for Indian River County identified the vast gap in student achievement for children living in economically disadvantaged areas of Indian River County.
According to the Florida Department of Education, less than that less than 50% of the lowest-performing students are not making learning gains.

Project COAEP has demonstrated results which are quantifiable -100% of Miss B's Learning Bees demonstrate learning gains on the State Assessment. The program has been shown to increase the number of students with passing grades in all subjects, increase student attendance at school, increase weekly test scores, and raise student self-confidence among the target population of students living in high poverty areas of the county.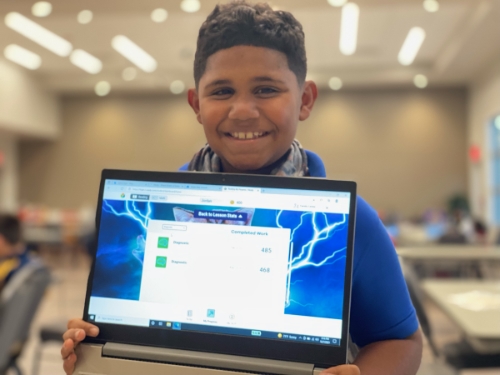 Formed in 2013, Head, Heart and Hands of Indian River Club uses a multi-faceted approach to community outreach program. The "Head" focuses on learning more about community needs,
the "Heart" through philanthropy and the "Hands" through volunteerism. The goal of the HHH- IRC funding is to support projects, programs, and services in the following core subject areas:
Education
Youth activities
Homeless issues
Environmental challenges
Cultural programs
Scientific research
Health
Image at the top – Miss B- LaToya Bullard (at right) gratefully accepts a check from Mr. Perry of the Head, Heart and Hands of Indian River Club to support Project COAEP – the afterschool academic support and behavioral services program for students from high-poverty neighborhoods in Indian River County.